Welcome to Gloria's Website!
This site and what it has to offer is for anyone wanting an empowering and open connection with the personal spiritual angelic energy surrounding them.
The Angels of The Light offer this message to YOU!

"INTENTION with VISION is the Power to achieve our chosen PASSION of either PEACE, JOY, or TRUST!"

All this and more is included in my new book - A Mirroring Discovery with Angel Visitation! .. just released.

The Angel Messenger's Channeled Communications Reveal:
A colourful portrait that seems magically alive and uniquely individual! (11"x 14" suitable for framing)

The Angel's Name or names are revealed to assist in

the

personal communication!

Illuminating and guiding messages to the recipient are noticed throughout the visual angel portrait and within the automatic writings!
Touching emotional uplifting experience that rings true for the recipient and offers a personal direction of infinite heavenly guiding wisdom!
NO APPOINTMENT IS REQUIRED.
These remarkable Angelic/Heavenly portraits and guiding messages transcend the location of the recipient. No visual nor voice communication is required. Gloria Messenger uses this 'gift of communication' to connect with The ALL/ The ANGELS of The LIGHT for you with only the name and birth date information needed.
ANGELIC Portraits with awesome Personal Guiding Messages proven to be accurate & true.
Empowering SOUL GLIMPSE offers Life MISSION Reminders.

ANGELIC VISITATIONS with guided CD Meditations
These empowering portraits are displayed in private collections around this world!
Commission Your Angel Package Right Now
---
Attain an AUTOGRAPHED Copy of A Mirroring Discovery NOW!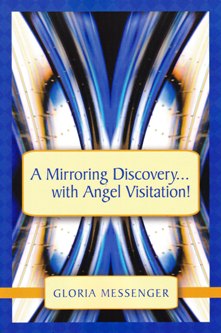 Attain Kindle or UN-autographed Copy of A Mirroring Discovery
---
Send a Gift Certificate to Someone Who Needs or Would Love to Connect with Their Angels
Include Name & Complete Mailing Address if You prefer not to open email attachments
---
Gloria Testimonials Packages Meditations Books Contact Featured